Porta Sul
As it is one of the main objectives of the Radio-Past project to transfer the primary field data from non-invasive surveys, such as geophysical survey, to a 3D-mapping and visual reconstructions of the archaeological and historical reality of a Roman town, a programme has started for 3D-reconstructions of the best known areas of the town. This work is coordinated by the company 7Reasons (M. Klein). One of the areas subject to a first trial is the Porta Sul, where excavations have provided the best data.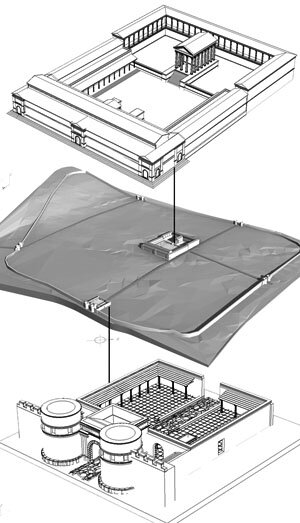 First attempt to reconstruct the forum and the Porta Sul of Ammaia (illustration by M. Klein)
Forum
More work in progress within the domain of reconstructions is now being done on the forum of Ammaia. Here data from punctual excavations is being integrated with the astonishing new mapping evidence from geophysical surveys.