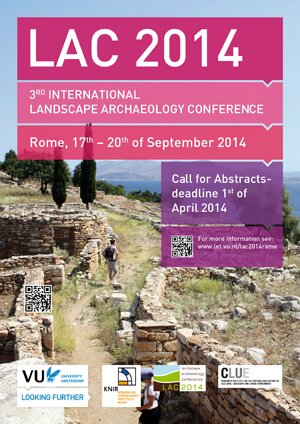 Standing in the tradition of the previous Landscape Archaeology Conferences held in Amsterdam in 2010 and in Berlin in 2012, LAC 2014 will again provide a platform for archaeologists, cultural and earth scientists and researchers from neighbouring disciplines to present and discuss results from the broad field of geo- and landscape archaeology.
The scope of the LAC 2014 conference will cover the following five broad themes in Landscape Archaeology namely:
There are thirteen sessions for which the LAC 2014 organisation is calling for abstracts. The full list of sessions can be found here,
Abstracts
can be send until the
1st of April 2014
.


buy cialis 25mg
The 3rd LAC conference will take place in Rome from September 17 – 20, 2014.
Source: http://www.let.vu.nl/en/research/conferences/lac-2014/index.asp