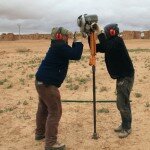 The 2nd International Landscape Archaeology Conference (LAC 2012) will take place at the Science & Conference Centre of the Freie Universität Berlin on June 6–9, 2012.
Standing in the tradition of the 1st Conference held in Amsterdam in 2010, the LAC 2012 will provide a platform for archaeologists, geographers and researchers from neighbouring disciplines to present and discuss results in the broad field of geo- and landscape archaeology.
The scope of the conference will cover the following session themes:
– Ancient megastructures and their environment
– Landscape resilience to human impact
– Human adaptation to landscape changes
– Spatial information systems in landscape archaeology
– Theoretical concepts in landscape archaeology
Radio-Past partner Eastern Atlas will present a paper on the project's research at the Conference.
buy cialis online now
For further information please visit the conference homepage: www.geo.fu-berlin.de/lac2012. The deadline for registration is April 30, 2012.