Computer applications and quantitative methods in Archaeology 2012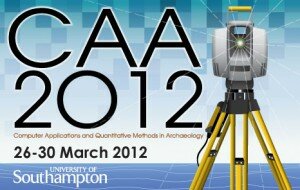 The Computer Applications and Quantitative Methods in Archaeology http://cialistadalafils.com/ (CAA) 2012 conference was hosted by the Archaeological Computing Research Group in the Faculty of Humanities at the University of Southampton between March 26-30, 2012.
The Radio-Past Project participated in this conference by organizing a session called "Integrated geospatial approaches to the interpretation of archaeological environments" (Session Code: Geo10) together with Axel Posluschny, the co-ordinator of the ArchaeoLandscapes Europe network (www.archaeolandscapes.eu). Contributions to this session discussed the use of integrated approaches to geospatial analysis in archaeology, highlighted their benefits for archaeological practice and interpretation, and examined the potential problems associated with their application.
Members and collaborators of the Radio-Past team presented at CAA 2012 the following papers:
Integrated survey, mapping and interpretation of abandoned Roman towns in Adriatic Italy
Frank Vermeulen, Geert Verhoeven and Francesca Carboni
The whole is more than the sum of its parts – Geospatial data integration and analysis at the Roman site of Ammaia (Marvão, Portugal)?
Eleftheria Paliou, Cristina Corsi and Frank Vermeulen
Three dimensional modular construction system for interpretation and visualization of archaeological urban environments
Paul Johnson, Michael Klein and Nicola Schiavottiello