It is the intention of the project to do a full coverage magnetometer survey of the site of Ammaia during the period 2009-2011. A first campaign was organised in June/July 2009 and involved a collaboration of Ghent university (field operator J. Verhegge) with the Archaeological Prospection Services of the University of Southampton (field operator N. Schiaviatelli, reporting and interpretation K. Strutt). As with the GPR survey this magnetic prospection proved very successful. For this survey a fluxgate gradiometer, type Bartington Grad601-2 was used. It was decided to systematically investigate a large area in the central part of the Roman city site, both on the forum, as in large areas north of south of the civic centre. The magnetometer survey across this central part (circa 4.1 hectares) was immensely successful in locating and mapping many buried structures across the now ruralised landscape. The varying nature of the deposits across the site provide contrast in the magnetic signatures of the readings, indicating the presence of walls, porticoes, courtyards and open public spaces.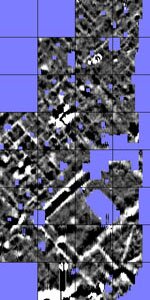 Detail of results of the magnetic survey in 2009 near the forum of Ammaia
The many features visible on the processed magnetometer images, include the main parts of the regular street plan and urban organisation of the town. The areas between the streets are subdivided into a pattern of rooms, corridors and courtyards, indicating residential blocks in all of the main parts of the survey area. In some instances the buildings are organised around a central courtyard, elsewhere buildings are subdivided into small rooms with no evidence for the presence of open areas. In the south eastern part of the survey area a series of smaller rooms seem to edge the main street, perhaps indicating a number of shops or tabernae lining the road. It is clear that a further use in the near future of this type of magnetic survey (Spring 2010) will help to reveal with remarkable detail the urban structure of Ammaia.