To be able to obtain a very high resolution Digital terrain Model of the site of Ammaia and its immediate surroundings, the team has opted to do a detailed and innovative LIDAR survey. This laser-based airborne survey method will allow to procure a very refined 3-D map of the surface of the archaeological site, the urban centre and extra mural activity zones, such as the main a granite quarry of the city.
This mapping is essential for all other survey procedures, but also allows that many archaeological features, whose presence is reflected in microtopographic anomalies on the surface, can be mapped. As there are no LiDaR data on a wide scale available in Portugal yet, data acquisition will be done fully within the project and very site-oriented. It is proposed here to involve in this the applied technology of a low flying airborne platform, a so-called Unmanned Aerial Vehicle (UAV), fully operated from the ground with remote control equipment.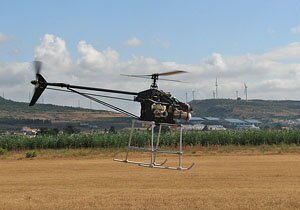 Unmanned Aerial Vehicle for LIDAR survey over Ammaia (photo by IST)
The UAV, to be further developed and tested within the project, by the a team of robotics specialists from the Institute of Science and Technology of Lisbon (A. Pascoal and C. Silvestre) is a kind of mini autonomous helicopter equipped with a light laser instrument and GPS functionalities. The equipment is at the moment in testing phase but further refinement, in matters of stability, flight route planning, autonomous operations and multi-functionality, could turn this instrument into a very innovative tool for archaeological mapping.