In the spring of 2008, a GPR survey was carried out by L. Verdonck (Ghent University). The main aim was to find out the potential of the georadar on the site of Ammaia and simultaneously try to map the city's central area. Two areas around the forum and forum baths were chosen.
The northwest-southeast orientation of the forum was known from the excavations of parts of the portico and because the temple podium is still standing above ground. Whereas previously the forum square was assumed to be a simple rectangle of 99 by 66 m, the GPR survey revealed a more complex shape and somewhat smaller dimensions. In the northwestern part around the temple, the square is much wider (53,5 m) than in the southeastern part (32 m), due to the presence of two rows of 10 identical shops (tabernae) in this cental part. Important is also the clear discovery of a basilica. This courthouse of 45 by 17 m is located at the southeastern side of the forum and is characterised by a double row of internal columns. It probably has a few entrances in the northwestern and southwestern walls. Several structures can be observed within the inner area of the forum, possibly relating to water supply or drainage and to monuments dispersed over the square. Immediately outside the forum, several streets were detected, one of which is the cardo maximus. In the northeastern and southwestern corners of the survey area, structures were detected whose anomalies are less obvious than those belonging to the forum. They can be interpreted as houses.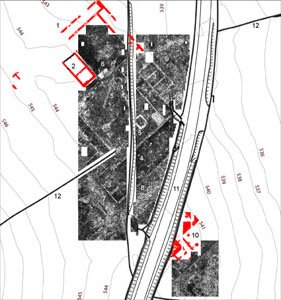 Results of the 2008 GPR survey of the forum area and the forum baths (illustration by L. Verdonck)
Southeast of the forum baths, which are partially situated under the modern road Marvão-Portalegre and have been partly excavated, a further small GPR survey was conducted. Walls running parallel and perpendicular to the excavated ones may form the remains of the baths' entrance. The rest of the investigated area revealed less clear structures, mainly because of a high amount of stone rubble in the soil. In general, however, the results of this first large test with georadar equipment provided excellent results, which will, during the coming months be mapped and interpreted in detail. They will no doubt allow a more complete reconstruction of public spaces in this part of town and will be very helpful in the assessment of the plan of the bathcomplex, integrating fully with the excavated evidence.